Olive Green Cotton Army Issue Sleeping Bag Liner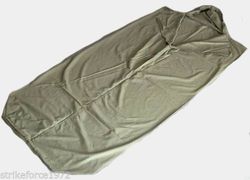 New £4.99
Buy this item online in our Ebay shop!
in stock
Stock Ref 9008
Here is a cotton liner designed for use with the current issue warm weather rectangular sleeping bag, or similar..
Velcro closure front opening, and box section toe to give plenty of room if you have to sleep with your boots on!
These are being issued to troops deploying to hot climates, such as Iraq, Afghanistan and also jungle areas.
Fully machine washable...
Weight is 0.46 kg.
Measures approx 165cm long plus a hood, and 84cm wide - when laid flat on the ground...
Brand new unissued, recently released through surplus disposal channels, so grab a bargain!!
* Postage costs are for UK mainland postage for single item unless otherwise stated.