Mess Tin Set - Military Style - Set of Two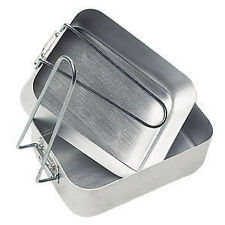 New £5.99
in stock
Stock Ref 2019
Classic rectangular cooking pans complete with folding handles.
Nesting pair, fit together and can be used as a storage container when packed away.
Ideal for most cooking tasks in the field, their square shape makes them perfect for heating up the rectangular foil ration meals.
New condition, supplied as a pair.
* Postage costs are for UK mainland postage for single item unless otherwise stated.