DPM Ripstop Cold Weather Hoods to fit Field Jackets.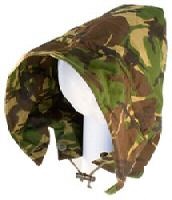 New £4.99
in stock
Stock Ref 6002
Wire-rimmed arctic issue hood, for use with the 95 pattern ripstop field jackets.
Simply buttons to the jacket collar, to give added protection in bad weather.
Adjustable cord-locks allow wearer to tighten around face during extreme conditions.
*Please select correct size from the drop down menu, this should match the chest size of your jacket, in order to fit correctly.
* Postage costs are for UK mainland postage for single item unless otherwise stated.